Most days a bunch of sailors head out off the waters of Torbay and hurtle around in state-of-the-art foiling catamarans.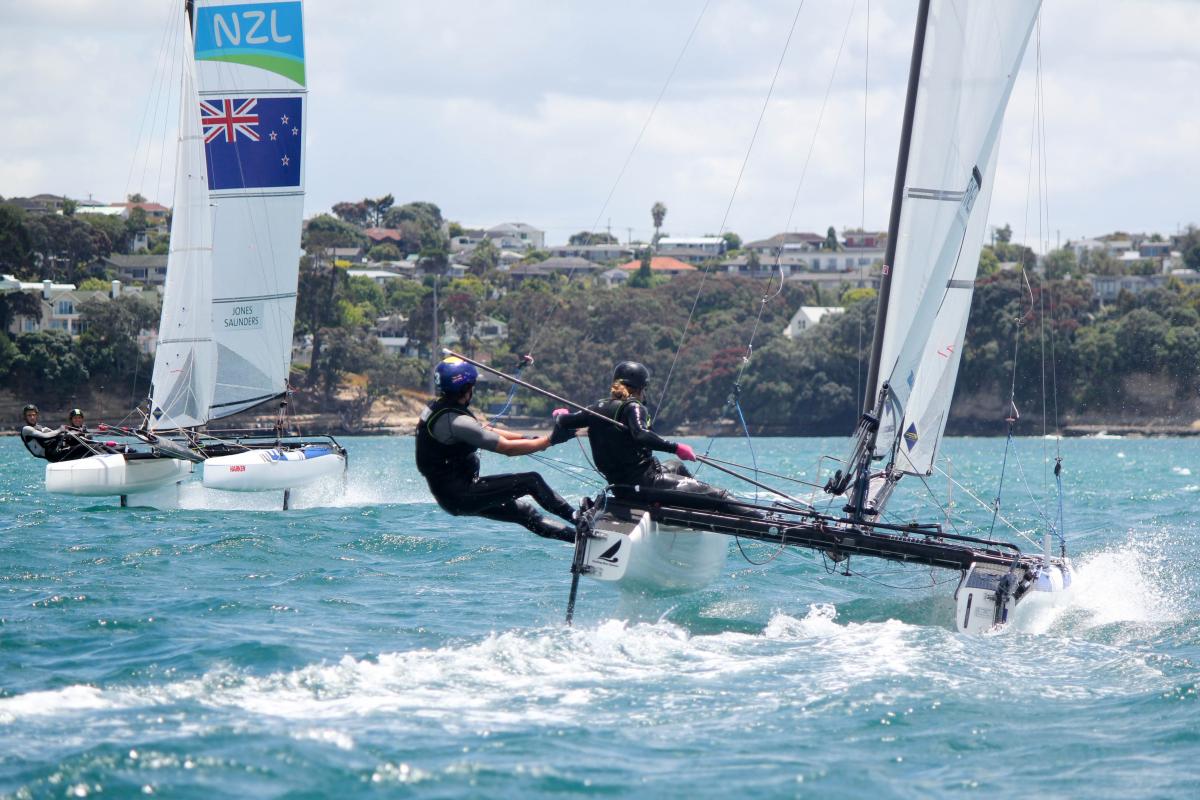 They just go quietly about their business, except for the incessant whistle as the wind passes through the boat, but are all hoping to make a noise at the 2020 Tokyo Olympics.
New Zealand's top two Nacra 17 crews have been joined by three international combinations in Auckland this summer in a remarkable show of allegiance. They all want to be the best and believe they need to work together to achieve that, even if that means sharing secrets.
Gemma Jones and Jason Saunders were fourth at both last year's Nacra world championships as well as the 2016 Rio Olympics and have found genuine competition in the form of youngsters Liv Mackay and Micah Wilkinson, who were 10th at the world championships. The two NZL Sailing Team crews have been joined for training in Auckland this summer by two teams from France as well as the top Danish combination.
It helped that there was already a connection – French crew Manon Audinet is Saunders' partner – but all three international crews saw obvious advantages in training in New Zealand during the northern winter. It's a common scenario overseas to train in numbers, where more teams are based, but rare for New Zealand, particularly the level of information sharing.
"Having the international crews has been a massive gain for us because we don't usually get many internationals coming to New Zealand," Saunders said. "We have four crews in the top 10 as well as a four-time world champion.
"There are plenty of gains being made and we are really enjoying the challenge they are bringing as well."
Four of the five crews will compete in next month's Oceanbridge NZL Sailing Regatta at Murrays Bay, the final stop in the Tasman Series. It's this country's premier Olympic and youth class regatta and the Nacra 17 is bound to be one of the most competitive fleets despite the small number of entries.
Mackay and Wilkinson have benefitted immensely from the change from non-foiling to foiling catamarans that will be used at the next Olympics, meaning all crews essentially started from scratch when the boats were released last year. The pair had plenty of foiling experience when they took possession of their catamaran only three days before the world championships, so were competitive straight away.
Some of their biggest competition over the next couple of years will be with Jones and Saunders to secure a spot at the Olympics – only one crew can represent New Zealand in each class. Rather than see them as their rivals, they see each other as allies.
"It's a really good relationship, actually," Mackay said. "We sat down before we got our boats and decided that the way New Zealand was going to win a gold was if we all worked together, and there was no doubt in our minds that that is what is going to happen. We are all trying to win that gold for New Zealand.
"It's working really well as a squad and everyone is taking on different roles and responsibilities. We are really open with each other and build on each other's skill-sets. It's really exciting."
The information sharing is bound to dry up closer to the Olympics but teams see the current period as something of an arms race as they learn the intricacies of the foiling Nacra.
"It's like two-boat testing," Wilkinson said, "only we've got five boats."
Entries for the Oceanbridge NZL Sailing Regatta at Murrays Bay Sailing Club on February 3-5 can be made here.